BeTru Body Pain Relief Cream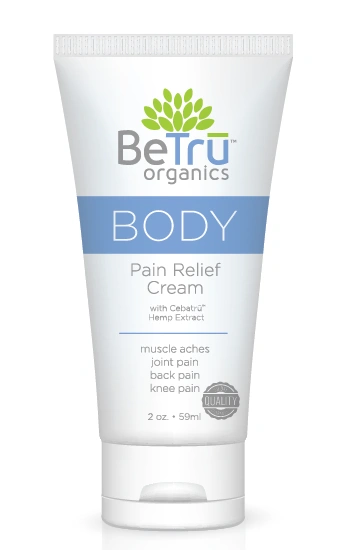 BeTru Body Pain Relief Cream
Be Trū Organics™ super emollient BODY Pain Relief Cream uses our very own patented nano-amplified hemp extract, Cebatrū™, which penetrates deep within every layer of skin. We carefully combine this with a synergistic blend of additional homeopathic incredients including arnica, Vitamin E, menthol, and essential oils of lavender and rosemary. Our BODY Pain Relief Cream is all-natural and contains NO harmful chemicals, mineral oil, or petroleum.

Do you suffer from pain associated with injuries, achy feet, or a sore neck/back?
What about more severe chronic pain related to conditions such as MS, Parkinson's Disease, and arthritis?  Enjoy instant and continual cooling pain relief with Be Trū Organics™ BODY Pain Relief Cream. We combine our very own micro-encapsulated, time-released proprietary hemp extract, Cebatrū™, with a combination of other homeopathic ingredients to give you the most effective topical pain relief cream on the market to date!