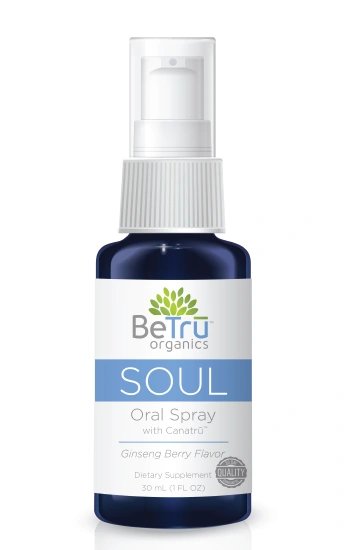 BeTru Soul Spray
Be Trū Organics™ SOUL Spray contains our very own patented nano-amplified hemp extract, Canatrū™. Using our own revolutionary nano-technology, Canatrū™ offers smaller, more bioavailable doses for optimal absorption offering faster, more targeted delivery and better product performance within the body. Our SOUL Spray also contains three other very powerful superfoods: Panax Ginseng, Astragulus, Goji berry extract, and natural flavors to provide you with a tasty intra-oral delivery system you are guaranteed to love!

Take 3 sprays twice daily by mouth and feel the difference!
Studies show that oral sprays reach a higher blood concentration than supplements taken in pill form. Be Trū Organics™ SOUL Spray is a powerful blend of adaptogenic herbs enhanced by our very own unique proprietary nano-hemp extract, Canatrū™, for a fully-balanced, antioxidant-rich formula that protects the mind and promotes focus, mood, and overall wellness within the body.
This herbal blend is a perfect balance between the potency of the herbs chosen and the ratios of these specific extracts to work optimally and effectively within the body.