Bling Cuffs by Sports Sheets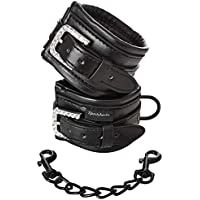 Bling Cuffs by Sports Sheets
BIND YOUR LOVER WITH BLING: Give your bondage play a sensual new touch with these incredibly soft, blinged-out restraints. Once your partner is subdued, drive them wild with a SPORTSHEETS whip, paddle, or tickler for fun that lasts all night!

SULTRY AND SEDUCTIVE: These handcuffs for sex play delicately balance the sparkle of bling with the alluring call of BDSM. Explore new sides of yourself and your relationship with these restraints and get ready to get kinky.

PREPARE TO GET CREATIVE: Simplicity does not mean a lack of versatility, and these restraints prove it! Take these wrist restraints anywhere in the house - tie your lover to the bed, furniture, a banister - if you can dream it, you can do it!

MADE WITH BODY-SAFE MATERIALS: These adjustable sex handcuffs feature nickel-free metal, polyurethane, and cubic zirconia for irritant-free fun that lasts as long as you and your partner can stand it!

GREAT FOR TRAVEL: Take your sexual fantasies to new locations with the compact design of these cuffs for sex play. They take up almost no space in your luggage, making them the perfect sexual handcuffs for BDSM couples on-the-go!