Bone Head By Naughty Bits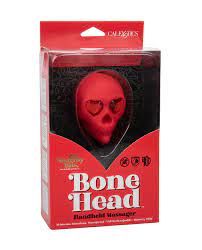 Bone Head By Naughty Bits
This unique massager with an edgy design is made for full body exploration.
The silky-smooth skull-shaped massager with sparkling gem details fits easily in your hand to let you control the 100% surface play area and ten indulgent vibration, pulsation and escalation functions.
The unique rounded body has a smooth, supple surface to deliver thrilling stimulation from almost any angle you choose.
While the easy-touch button controls the intensity and the vibe gives you the stimulation you want, the integrated state of the art memory chip remembers just how you like it by starting on the last function used.
Bone Head Handheld Massager is waterproof for fun in & out of the water