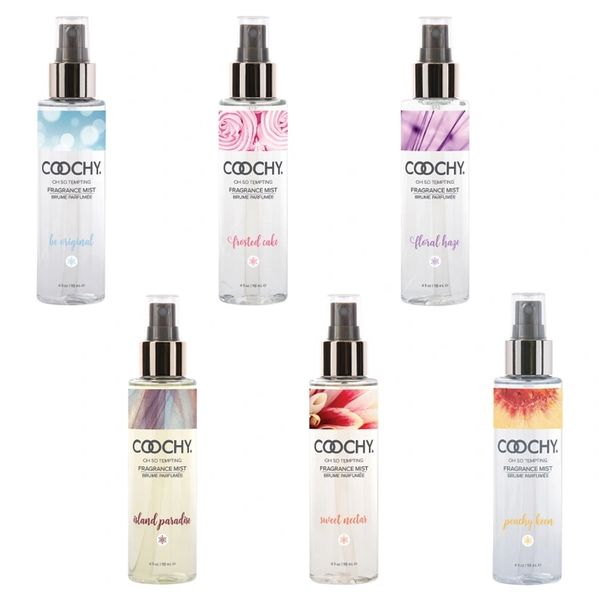 Coochy Fragarance Mist
These alcohol-free mists can be used to lightly fragrance the skin and hair, and may also be used to freshen your favorite linens and lingerie.
📝Main Features:

Full Body + Hair + Linens & Lingerie Use
Feel Fresh & Frisky all day long!
Leaves Skin Refreshed & Irresistible to touch!
Paraben - Alcohol - Mineral Oil Free Formula.
Gentle enough for even the most sensitive areas on your body. 
Use it how you want! After Shower or Bath! Throughout the day pick me up!
What Scent?
- Frosted Cake: Sweeten the touch of your skin with frosted cake. Infused with a delicious blend of vanilla, buttercream & lilacs, you'll find delight in every bite of this delectable fragrance.
- Floral Haze: A breath of petal softness combines sweet pea & blue violet with a blush of powdery white cedar. Soft-n-sweet…but not too sweet.
- BE ORIGINAL: Ignite a passionate conversation with be original. Infused with vanilla, orange blossoms & gardenias, you'll want to bare the velvety powderiness of this signature fragrance.
- Sweet Nectar (Pear Berry): Drink up the many pleasures of sweet nectar. Infused with a medley of pear, wild berries & apply blossoms, you'll savor the endless explosions of this fruity fragrance.
- Island Paradise: Escape on an exotic adventure with island paradise. Infused with juicy acai berries & sensually sweet mangosteen, you'll discover and uncover the many wonders of this fragrance.
- Coastal Haven: Find your sweet retreat with Coastal Haven. Infused with sun kissed fruit, a hint of jasmine and a wave of woody cashmere, you'll captivate the senses with the forward freshness of this fragrance.

- Peachy Keen: Treat yourself to a delicate spritz of peachy keen and delight in the ripe pleasures. Infused with a sweet and juicy blend of Georgia peaches, sugar cane and a hint of vanilla, you'll fall in love with the lip smacking goodness of this fragrance.