Coochy Ultra Ingrown Hair Oil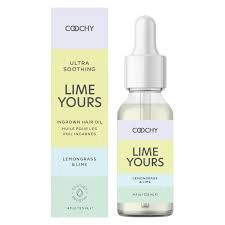 Coochy Ultra Ingrown Hair Oil
 Right after a shave you need something that is soothing, calming and comforting. Relax the skin by using this ingrown hair oil after waxing, lasering, or shaving. It will soothe the skin after hair removal avoiding the appearance of red bumps, razor burns, and ingrowns. Simply apply a small amount to clean towel dried skin. 
Key Ingredients
Tocopheryl Acetate: Vitamin E, powerful antioxidant that nourishes and protects skin, locking in moisture
Lemongrass Essential Oil: Contains vitamin A and C which boosts the natural shine of skin and hair, as well as many other key minerals that reduce inflammation.
Oenothera Biennis Oil: Moisturizes and soothes, and enhances elasticity and texture of the skin.
Citrus Latifolia: Contains antioxidants such as vitamin C, which helps protect skin and is gentle for soothing skin inflammation