Crazy Girl Pheromone Sprays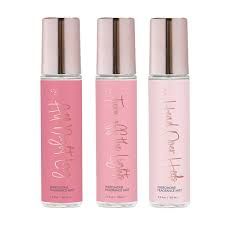 Crazy Girl Pheromone Sprays
Cultivate confidence and express a magnified version of yourself with CG pheromone infused perfume oils. Choose from three dynamic fragrances. All specially formulated to blend with skin pH, provide a unique on-of-a-kind scent and boost sex appeal! (o.3oz)
 Features :
Available in three dynamic fragrances.
Formula blends with skin pH for a unique scent to you.
Enhances natural pheromone production to boost sex appeal.
Paraben & Gluten Free
Vegan Friendly
 Scents:
 Head Over Heels – A light fruity, floral fragrance. Ideal for a hot brunch date a lazy Sunday in bed?
Top note – Mandarin, Lemon, Sweet Osmanthus & Mimosa
Mid note – Apple & Fresh Melon Accord
Base Note – Dry Notes of Sandalwood, Patchouli & Sweet Amber
 Turn Off the Lights –  a MEDIUM FLORAL, ORIENTAL FRAGRANCE. Ideal for a matinee movie date or an impromptu afternoon delight!
 

Top note – Natural Mandarin, Fresh Bergamot, Melon & Pineapple
Mid note – Tropical Coconut, Strawberry, Gardenia, Jasmine & Marine Accord
Base Note – Musk, Sandalwood, Patchouli, Vanilla & Tonka
All Night Long – A subtle but rich oriental fragrance. Ideal for turning heads on a special night out or an intimate evening in for two.
Top note – Orange, Raspberry & Peony
Mid note – Tropical Orchid, Lychee & Black Rose
Base Note – Dry notes of Sweet Amber, Caramel, Vanilla & Woody Amber