Dragon Penis Extender Sleeve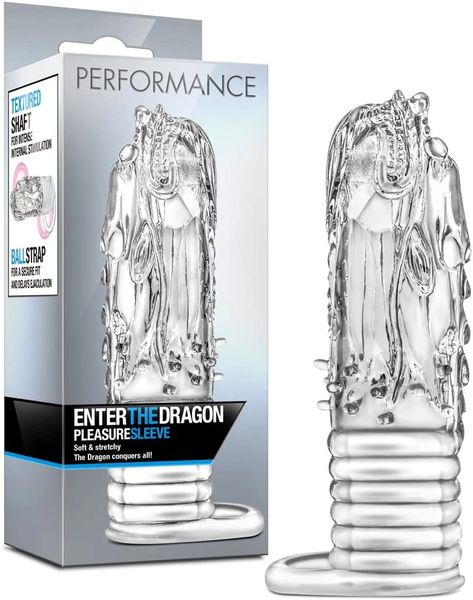 Dragon Penis Extender Sleeve
A uniquely shaped penis sleeve from Blush's Performance series, the "Enter the Dragon" cocksheath is a TPE based ornamental shaped pleasure sleeve. The TPE material gives the sleeve a soft enjoyable sensation for both partners. The "Enter the Dragon" cocksheath features a ball strap that securely keeps it strapped on. The sleeve measures a total length of 5.25 inches with a width (diameter) of 1.5 inches.
Sleeves with a thinner stretchy ball strap are not intended to cover the full length of your penis. The material allows the ball strap to stretch to encompass the balls as the sleeve sits higher on the penis.
Blush Performance Enter the Dragon Sleeve Features
Creative uniquely shaped "Enter the Dragon" penis sleeve
Textured exterior, made of TPE material
Features ball strap for a more secured fit
Total Length: 5.25", Inner Length: 5.2"
Width (Diameter): 1.5"