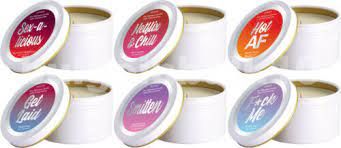 Jelique Candles
Fire up your desires & send a message! 
As the candle burns, it liquefies into a warm (not hot – only 2 degrees warmer than your body temperature!) moisturizing oil to enhance any sensual touch.
Made with natural soy oil and other skin conditioning oils:
Soybean Oil - combats wrinkles & uneven skin tone antioxidant/ protein moisturizing/ healing properties/ burns at lower temperature than wax candles
Coconut Oil - moisturizing/ skin softening
Apricot Kernel Oil - moisturizing/ hydrating/ conditioning/ softens/ nourishes/ emollient
Jojoba Seed Oil - skin lubricating/ moisturizing
Avocado Oil - soothing/ softening/ rich in omega-3 oils/ contains vitamins a,d & e/ relieves dry, itchy skin/ increases production of collagen/ ultra-moisturizing
Shea Butter – moisturizing/ anti-inflammatory/ antioxidant/ antibacterial/ antifungal/ boosts collagen production/ helps promote cell regeneration/ soothes
Vitamin E - conditions/ nourishes/ improves skin surface/ smooths/ moisturizes/ assists in scar & acne treatment/ promotes healing/ protects skin from itchiness & free radical damage
Infused with pheromones - nature's sexual attractant!
Available in 6 Themed Fragrances:
F*ck Me - Vanilla Sugar 
Smitten - Strawberries & Champagne
Get Laid - Passion Fruit
Hot AF - Black Cherry
Sex-A-Licious - Ravenous Raspberry
Netflix & Chill – Berry Yummy