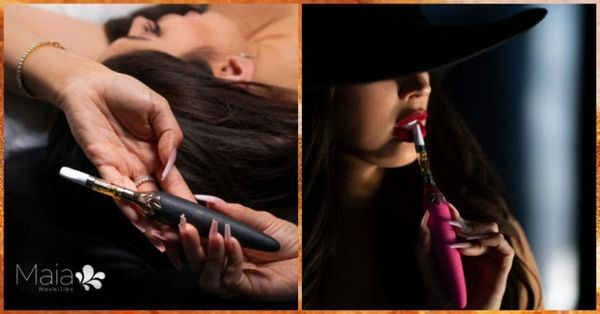 Maia Vaporator
Enjoy the vibrations of the smooth silicone shaft that tapers to a plush and squishy tip, then unscrew the decorative metal crown at the top to add your own favorite vape cartridge for a postcoital puff.
VAPORATOR is designed for easy operation with push button controls. Use the bottom button with a debossed squiggle design to control the vibrator's twenty modes of vibration, pulsation, and escalation. The top button with a debossed cloud icon controls the three vape temperatures as well as the hands-free "Party Mode" which activates the heating mechanism for eight continuous seconds.
The golden crown above the embossed leaf design at the end hides a secret – unscrew it to reveal where you can add your own favorite 510 thread vape cartridge (not included) and the Vaporator becomes your vaping control. You can vape and vibrate at the same time!
The magnetic USB rechargeable VAPORATOR is rated IPX4 waterproof/ splashproof so it's resistant to water splashes from any direction and easy to clean.