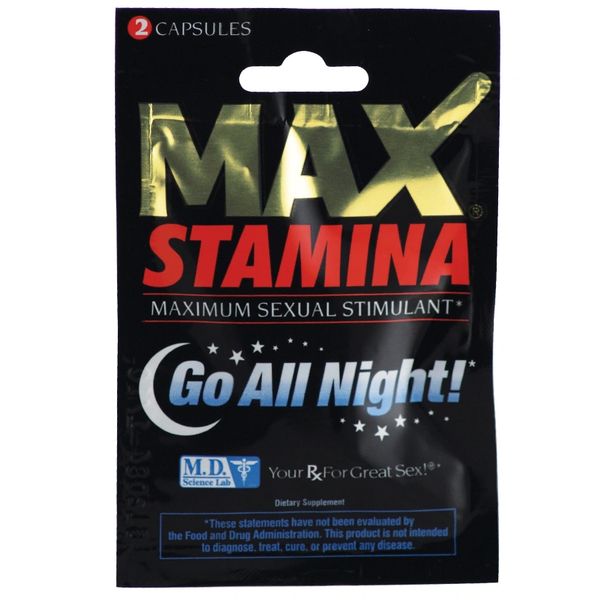 Max Stanima
Max Stamina is a radically new and unique sexual stimulant designed to increase sexual stamina and ecstasy. No other product produces the same euphoric sexual excitement. 
Increased erection, greatly lengthened periods of arousal, and significant increase in ability to maintain intercourse before climaxes are all manifestations of this advanced formula. Max Stamina symbolizes a quantum leap in sexual enhancement products. There is no real competition.
Max Stamina contains the following sexual enhancers for a Maximum Sexual response:
Longjack (Tongkat ali / Eurycoma longifolio) - Natural Malaysian herb called "Asian Viagra™" in the New Sunday Times (May, 1999). This herb is now taking central position in discussions about natural herbs with aphrodisiac effects. The compelling research on Longjack shows it as a natural and effective hormone booster. It naturally boosts testosterone levels and the Body Building world is buzzing about its "andro" effects.
Yohimbe 8% Extract - At this high concentration, Yohimbe stimulates desire causing stronger, longer and more powerful erections via dramatic increases in penile blood flow.
Xanthoparmelia Scabrosa - Natural source of the core molecules in medications for impotence. Helps to sustain longer erections.
Cnidium Monnier - Natural source to further affect smooth muscle reaction and expand penile artery blood flow. This ingredient works via the nitric oxide pathway and CGMP.
Epimedium / Horny Goat Weed - Natural herb with documented aphrodisiac effects. Research shows testosterone like effects with stimulation of sensory nerves and it may directly affect the neurotransmitters associated with sexual arousal and therefore potentiate a sexual effect.
Maca - Peruvian botanical with a long history as an aphrodisiac and physical energizer. Research indicates that it has a regulating effect on hormones and increases libido.
Macuna Pruriens - A natural phytochemical sometimes called Velvet Bean, it has been used to improve mental clarity. Research shows a powerful androgenic effect.
Polypodium Vulgare - A natural botanical that contains the substance group ecdysteroids. Research indicates androgenic effects and support for erectile sexual activity.
Gaba - Natural compound that can increase the neurotransmitter dopamine. This compound naturally produces a healthy sense of ecstasy and well-being. This compound helps increase and release sensational orgasms.
L-Arginine - Activates the nitric oxide pathway and production of CGMP. Further enhances penile arterial blood flow leading to firmer, more rigid erections.
Each packet contains 2 pills.