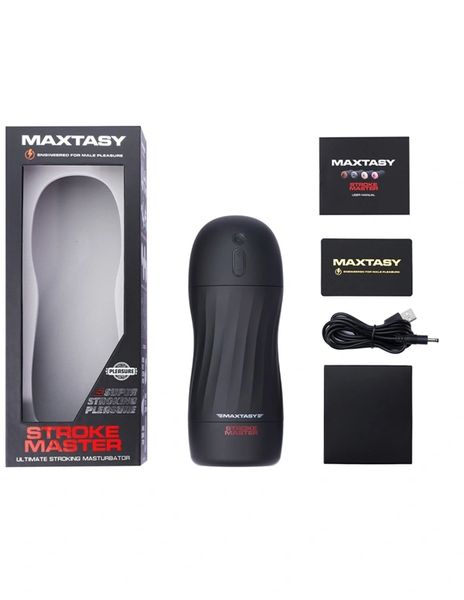 Maxtasy Stroke Master
Get ready for the most realistic stroking experience on the market with the Maxtasy Stroke Master Masturbator!  
This hyper-powerful men's masturbator is the pinnacle of male pleasure, built by award-winning product designers and luxury sports car engineers to provide an erotic experience at a truly elite level. It offers ultra-realistic pleasure with milking-enabled stroking motions, almost unlimited torque, and unparalleled stroke depth that feel just like you're penetrating an enthusiastic rider! The supercharged motor pushes and pulls the interior sleeve up and down your penis at 10 speeds, offering 120–240 strokes per minute to milk you at the press of a single button. Use these speed modes for stamina training, passionate penetration-like sensations, or intense thrusting for quick and hard action that'll take your orgasms to explosive new heights!
The Maxtasy Stroke Master Masturbator comes equipped with a clear sleeve full of long, angled bristles that brush all over your penis as the motor powers the stroking motion. The soft TPE feels just like real penetrative sex for a lifelike sensation and is also easy to clean once your fun is done. The sleeve slides out so you can get it sparkling clean with warm water and toy cleaner, then reattaches in a literal snap thanks to the placement indicator and magnetic design that connects it back to the inner housing case.
The Maxtasy Stroke Master comes in an ergonomic case that has textured grooves for a better grip as you hold the stroker in place. The simple 3-button controls are easy to operate in the heat of the moment and the whole thing is conveniently rechargeable for endless enjoyment up to 2 hours at a time!
Key features of the Maxtasy Stroke Master Masturbator:
Offers an unbelievably realistic riding/milking penetration-like sensation
Super-powerful motor with 10 speeds at 120–240 strokes per minute
Non-anatomical sleeve with long-bristled texture for awesome stimulation
Excellent torque & stroke depth for stamina training, fast climaxes & more fun
The sleeve slides out for easy cleaning & reattaches easily with magnets  
Ergonomic grooved case design with simple 3-button controls & cap
Size:
12.8cm / 5″ maximum insertable depth
25.5cm / 10″ overall length
8.5cm / 3″ overall width
Material:
TPE (thermoplastic elastomer)
ABS plastic
Battery & Power Information:
USB-rechargeable (cable included)
Runs for up to 2 hours of realistic stroking pleasure
Fully charged in 2 hours