Maxtasy Warming and Drying Dock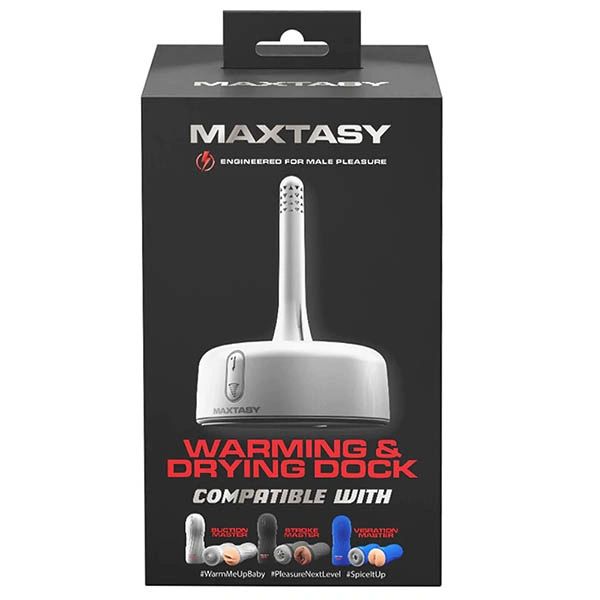 Maxtasy Warming and Drying Dock
Elevate your erotic pleasure with your Maxtasy Masturbator toy thanks to the Maxtasy Masturbator Warming & Drying Dock!
This male sex toy accessory has been created by award-winning product designers and luxury sports car engineers to offer top-quality performance with your Maxtasy Masturbator (sold separately). At just the push of a button, the Maxtasy Warming & Drying Dock can warm your sleeve up to body temperature for a realistic-feeling penetrative sensation in just 5 minutes! Once your fun is done and you've cleaned your Maxtasy sleeve, hit the second button to activate the 90-minute drying mode.

The Maxtasy Warming & Drying Dock has a non-slip base to support and stabilise your toy as it heats up or dries. The dock works best with the sleeve already inside the masturbator housing case, meaning you can enjoy a warm sleeve or replace the case's storage cap straight away! You can manually end the warming or drying program any time you like, though you'll never have to worry about overheating or unnecessary battery usage thanks to the auto-timers that automatically switch off the dock once the function time is up. Top up the power levels with the included USB charging cable and you'll be getting the most out of your Maxtasy masturbators for ages to come!

Key features of the Maxtasy Masturbator Warming & Drying Dock:

Heats your Maxtasy Master toy (sold separately) to realistic body temperature
Reaches 37.5°C/100°F in just 5 minutes
Dries your Maxtasy sleeve fully in 90 minutes
Auto-timers to prevent overheating & unnecessary battery draining
Works with the Maxtasy case on so you can enjoy or store your toy immediately
Non-slip base for extra stability
Size:
14cm / 5.5" height (compatible with all Maxtasy Master Masturbators in their cases)

9.75cm / 3.85" base diameter
Material:
ABS plastic

Battery & Power Information:
USB-rechargeable (cable included)