Oh Mi Bod Blue Motion Nex2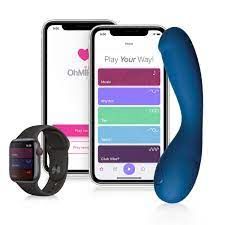 Oh Mi Bod Blue Motion Nex2
 The 2nd generation of this app-controlled g-spot vibrator is perfect for solo or couples play. Our most popular design is now Bluetooth® enabled, and perfect for long-distance partners! Start by downloading the free OhMiBod Remote™ App, then launch, pair and play. Once connected, the possibilities are endless! Try multiple modes, from the sound-responsive Club Mode to the pre-programmed pulses of Rhythm mode, or even tap and record your own pulse patterns!

In close proximity to one another, try using the App to control the vibe within Bluetooth® range (approximately 26-30 ft. depending on your surroundings. Bluetooth® range doesn't work when there is a concrete wall or water between you and the controlling smartphone). Once your Bluemotion is connected to the app, you can connect over the app to your partner anywhere in the world! OhMiBod Remote™ is available via the Apple App Store as well as GooglePlay. 

Is your smartphone out of juice? The vibrator can function in manual mode and has 7 powerful scalable pre-set vibration patterns, so you can get down the old school way. And there's no rush: the battery charge lasts for up to two hours of use.