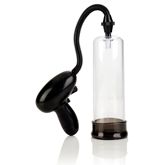 Presicion Pump Automatic
Totally automatic! No pumping, no squeezing…just push the button and the motorized pump does the rest!
Featuring an oversized cylinder with measurements, push-button automation, a pistol grip controller, removable sleeve for comfort, automatic release valve, and flexible non-crimping hose, this pump helps you achieve maximum results.
Pistol grip controller with easy push button activation




Seamless, flanged, 3"/ 8 cm oversized cylinder with universal measurements




Automatic release button




Flexible non-crimping hose



Stretchy TPE (sleeve), ABS (cylinder and controller), PVC (hose)
8.25"x 3"/ 21 cm x 8 cm (cylinder)
Uses 4 AAA batteries.