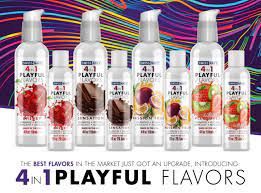 Swiss Navy 4 N 1 Flavors
The warming 4-in-1 Playful Flavors can be used for unlimited amounts of fun. A simple sensual massage, teasing foreplay, oral fun, extended sex play – let your imagine run wild and you'll never run out of fantasies for use.
The slippery warming formula heats up with friction and when you lick or blow on it, and not only adds excitement to romantic activities, but promotes increased bloodflow to erogenous zones for extra sensitivity.
All of the flavors are paraben-free, sugar-free, non- staining and non-sticky.
Play together, stay together. Love your love life!