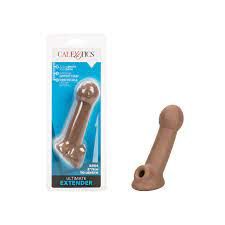 Ultimate Extender Brown
Indulge in you and your lover's wildest wet dreams with the powerful Ultimate Extender male penis extender sleeve. The perfect sex toy for couples, the closed-end sleeve suction and uniquely textured chamber thrill him while the added girth, stamina and 2 inches of length will leave your partner shaking. The built in scrotum strap and thick sleeve provided added erection support and increase stamina to prolong and intensify pleasure for any couple. Step up your pleasure and never settle for less when it comes to size, our super stretchy extender with supportive scrotum strap will have you and your lover craving more, more, more.
Our super stretchy enhancer stretches to fit even the biggest man. The premium PureSkin™ is unscented, phthalate free and maintenance free to keep your most sensitive spots, happy and healthy. Enjoy easy clean up with this maintenance free penis extender sleeve, simply wash with soap and warm water before and after each use. Use ample lubricant for easy insertion.