Wicked Teaser Assorted Sample set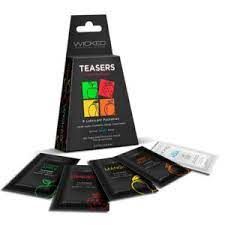 Wicked Teaser Assorted Sample set
Pucker Up! Kissable, lickable, and delicious, Wicked Aqua Flavored personal lubricant adds subtle and delicious natural flavors to enhance oral pleasures.
Light & silky, the water-based formula is the perfect sensual combination of an elegant lubricant and a flavor sensation.
Never sticky and without an aftertaste, this delicious and unique variety of flavors uses Stevia, a natural sweetener from the Sunflower family that's 200 times sweeter than sugar has zero calories.
Oral sex never tasted so good. Whether you are giving or receiving, Wicked Flavored Lubricants will give you a new sexy confidence.